AFTERILOVAISK. "Chub"
Photo: Markiian Lyseyko
Oleksandr Deineha, codename "Chub" [wisp of hair], "Donbas" battalion
I joined the battalion in late May 2014. On June 1, we already were in a tent in Petrivtsi. Having passed our training, I was appointed to the post of a commander of the first squad section of the first platoon of the first company. With this company we were in the ATO zone, near Sloviansk, on July 1.
Prior to that I had been working as a realtor and was engaged in the lease of real estate in Kyiv. I was also engaged in trade, namely in Coca-Cola company and Chernigivske beer. I had also served in the army and signed a contract for three years. And before that, I had been studying – graduated from the Agrarian University.
I was on the Maidan from the very first days. The entire situation in the state made me indignant. On the Maidan I did not join any groupings. I was by myself.
I thought that a man who did not serve in the army was not a real man. Thus, when there was such a situation in the country, and when the aggressor came and the hostilities began, I understood that I had to go. Moreover, in the internal troops I had served in the military unit "3027", where our "Donbas" battalion started to be garrisoned. Knowing that I had the necessary knowledge, I joined. I would have been ashamed (not to join – editor's note) in front of the guys, in front of the people who took part in the Maidan, who came to Kulchytskyi after the first call. In front of parents, in front of future children. I could not sit this out.
When there was a recruitment for the "Kulchytskyi" battalion, I already had a wedding scheduled for May 4 and could not cancel it. Two weeks after the wedding celebration I joined the "Donbas" battalion.
I could only imagine what a war was. A war is like a fight. Every fight is completely different. There are no analogs. Similarly, when it comes to a war, there are no analogues in different states. But when I was joining the battalion, I understood that there was a possibility that I would not return. I cannot say that this did not frighten me. But I still gathered everything and joined. I told my relatives that I was summoned by the military commissariat. I forged a summons and showed it to them. I told them that I was an officer, I was a serviceman. Moreover, the National Guard was taking part. The "Donbas" battalion was garrisoned in the territory of my unit, therefore, my unit summoned me, since I was an officer. Later they learned about my deceit, but I was already in the ATO zone.
This was all the result of my parents' and my grandfather's upbringing. Unfortunately, my grandfather died, but he had been fighting in World War II. He told me little about the war. But he seemed to be a tank commander. He was fighting against the invaders. I cannot say that he was fighting for the Soviet Union. He had his own beliefs, but he was defending his land. Near Kharkiv, he was captured for three years.
My father served in the Soviet Army, in the border troops. He told me a lot about the army. About detention on the borders. The combination of all these factors – let's say, my patriotic views – were formed at a very young age and led to such a decision (to go to the war as a volunteer – editor's note). My attitude to the state – I love it and will not allow anyone to trample it.
I left in May and planned to be at home by the New Year. That was my assessment of separatists' forces. I thought that no matter how ruined and plundered our army was, there was enormous patriotism of those people who were in our battalion and of other people who we communicated with. Even given the equipment we received, thanks to the volunteers, given the support and our fervor – everything could have easily ended by the New Year. But there once again were various factors – the invasion of the Russian troops, softness of our command – in particular the Commander-in-Chief – with regard to decision-making.
Photo: On the approaches to Pervomaisk, July 2014, by Maks Levin
Illiteracy and feebleness of our "generals" also played its role. These were people who have never – probably most of them – been in any of the hot spots before. And their decisions were simply stupid and illicit. Even the intelligence that we, that is, volunteers, brought, which was certainly not special intelligence, still included some information with the help of which it was possible to mop up, for example, Pervomaisk by launching a few rockets from Uragans. The same is true for Ilovaisk – everything was well thought out, we went in, mopped the area up, and if the Armed Forces had approached, we would have made a lodgment and would have mopped Ilovaisk up in two days.
Accordingly, at that time the territorial situation was as follows – Ilovaisk separated Donetsk and Luhansk, so we would have cut all their transport routes and could have moved further. It would have been much easier to mop these territories up.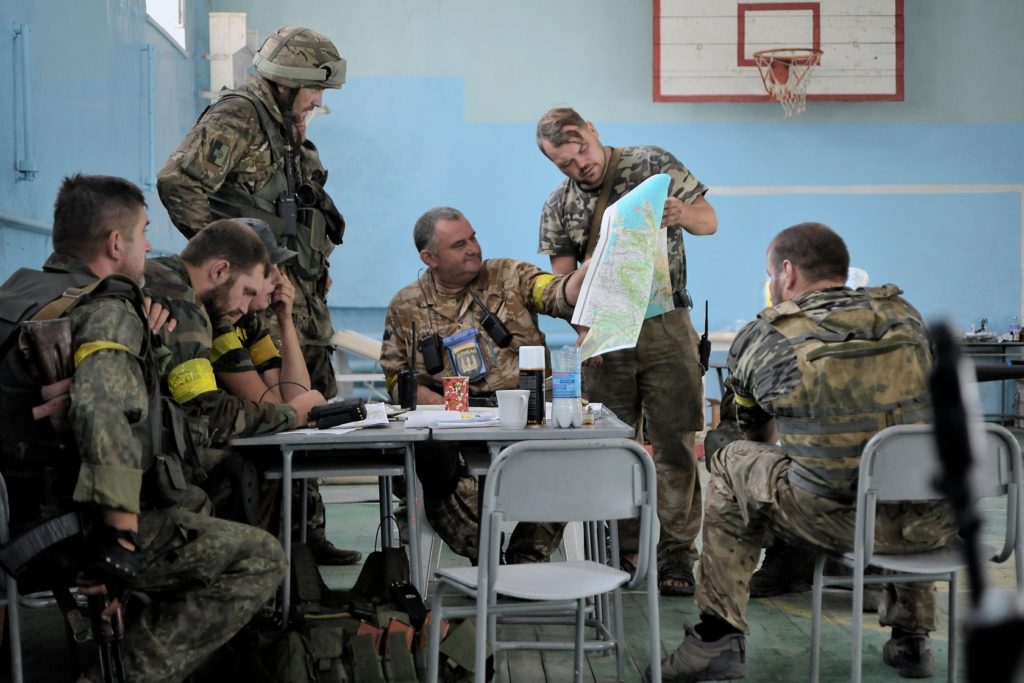 I came to Ilovaisk with the "Donbas" battalion and was leaving it with this battalion as well. We were heading to Chervonosilske. In Chervonosilske the talks began, there were proposals to leave on our own and to leave the wounded behind, since there were the wounded who could neither defend themselves nor move. All members of my squad gathered together. There were guys who said they wanted to leave, as part of other groups. For example, Lavr, whom I gave a permission to leave. But Yar, a physician, was also with me. He did not want to leave the wounded, because he understood that without his help many would not survive. And I, as a division commander, supported him. And knowing that at least one of my men was staying with the wounded, I, as a commander, also stayed with them.
We stayed. Then there were 36 hours of ding-dong fights. And then there was the capture.
Thank God I was not injured. Only slight contusions, which were the result of the fact that I fired from an RPG several times myself. But God saved me, He moved my head himself. I cannot say that I'm a super-duper pro, but the knowledge I had also saved me.
I was in captivity until December 26, that is, three and a half months. The President met us in Vasylkiv.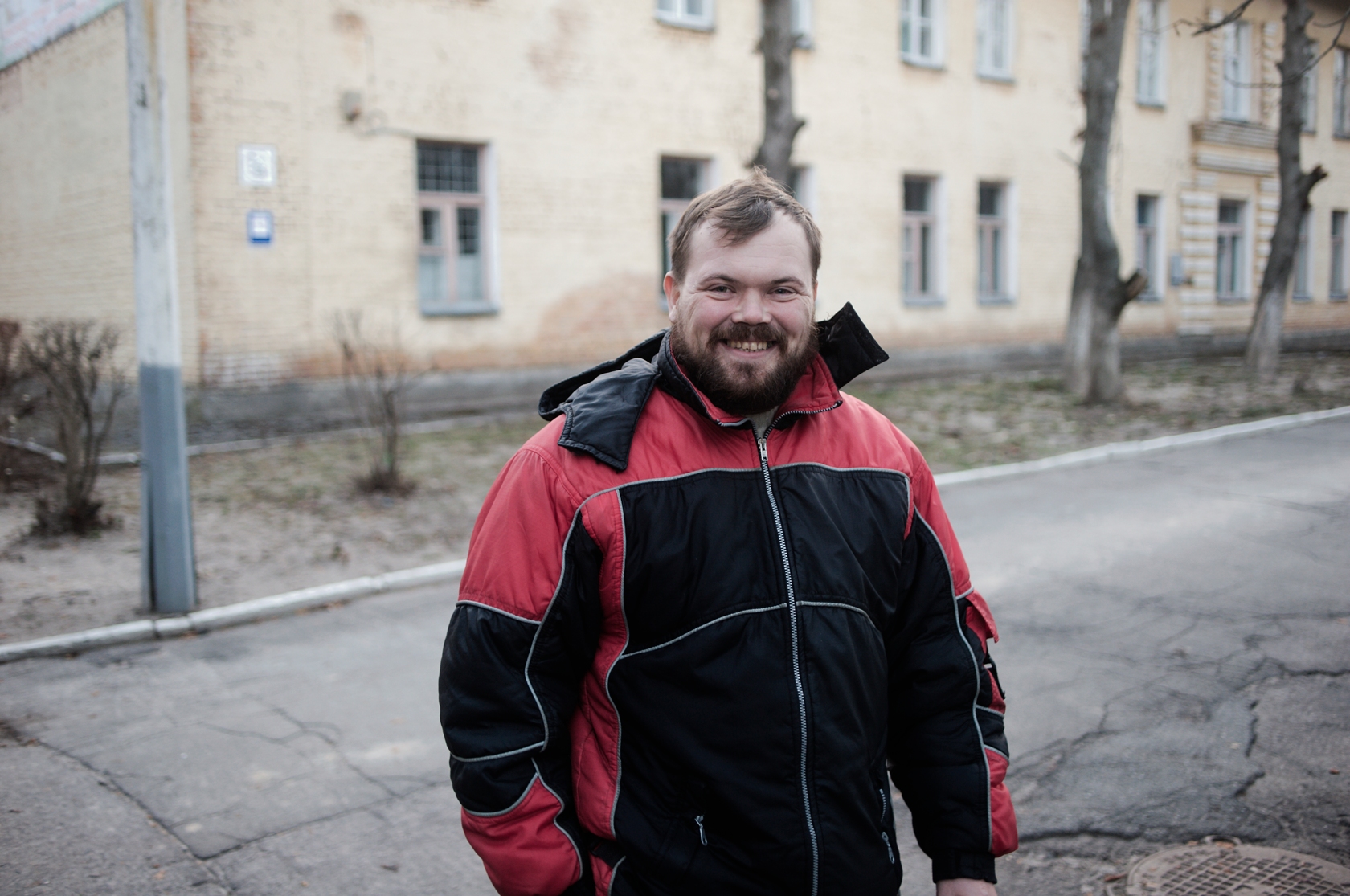 First of all, I can say that those were Russian soldiers who captured us, and those were Russian troops who besieged us and were shooting at the column. There is evidence that during those 36 hours of defense, our guys near Chervonosilske destroyed several units of armored vehicles. They captured six people, who had all the documents confirming that they had a contract signed with a particular division of the Armed Forces of the Russian Federation.
There were also talks with the officers of the party that besieged us. I personally spoke with sergeants, rank and file, and a junior lieutenant. All of them were representatives of the Russian Federation. They did not deny this. This besiegement cost us great losses: the dead, the missing. Not only did we destroy the enemy's machinery during those hours, but I saw with my own eyes a Kamaz in which they (the Russians – editor's note) gathered their KiA (dead people – editor's note). We even helped them to load the dead into the Kamaz. According to [Russian] officers, not even one company was left from their battalion.
We were kept at a field for a day, after which were moved from Chervonosilske. All those people were Russians, who were astonished by the fact that watermelons can easily grow on our fields. There was no water, we saw watermelons – let's at least take watermelons – "neither you nor we have water." They were not Ukrainians. For sure, and nobody will convince me of that. I saw everything with my own eyes.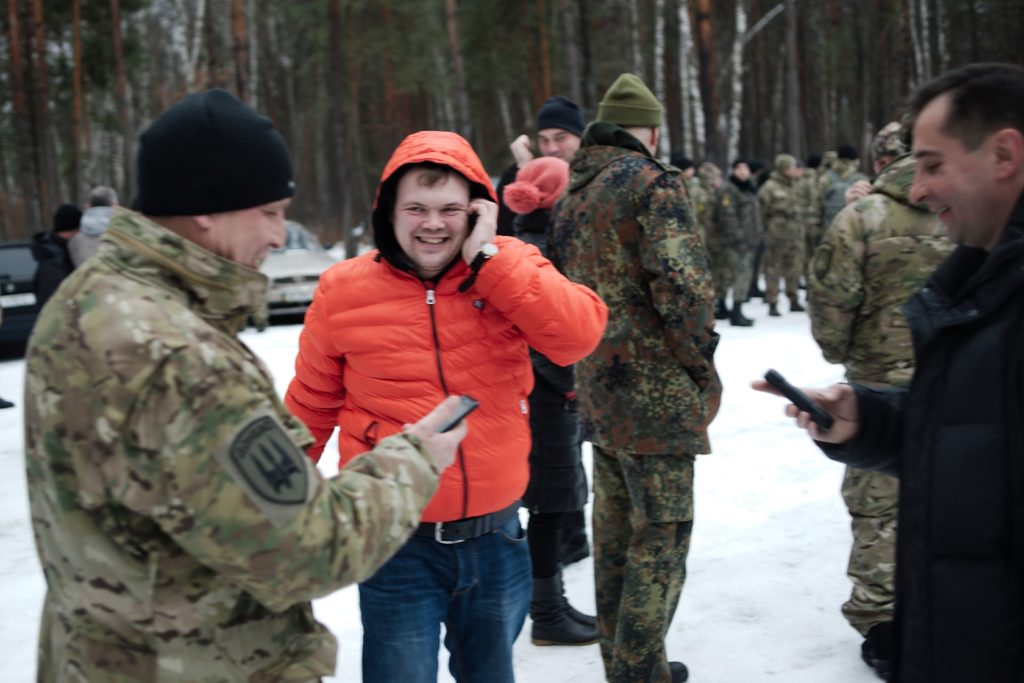 After the captivity I returned to the war. Six months I was treating my back and solving all issues related to the documents for land. Representatives of "3027" (a military unit – editor's note) then said that the year during which we served as volunteers was not taken into account." Now you are subject to mobilization. We are so merciful and will send you to the "Donbass" battalion. But I had the intention to pay the debts for the captivity. Those who did not want to go did not go. At first it was possible to avoid service – some had health problems, some really could not serve. Some puzzled out legal issues, realized that it was illegal, and did not go, but some of the guys returned to the battalion. One more year I was in the Mariupol axis (as part of the "Donbas" battalion of the National Guard). As a mobilized person.

I finally returned on July 18, 2016. First of all, I began to deal with my health, my wife, my parents. I celebrated my birthday on July 20. I had a beach holiday with my wife. After my return, I started taking an active part in the public life of my village – Sofiyivska Borshchahivka. In addition, I returned to the real estate agency in which had worked before the war. People had been waiting for me there and welcomed me warmly. There was a funny situation. After the captivity I came to this agency. Just as a guest. A bonus payment, which I had earned in 2014, was waiting for me in the envelope.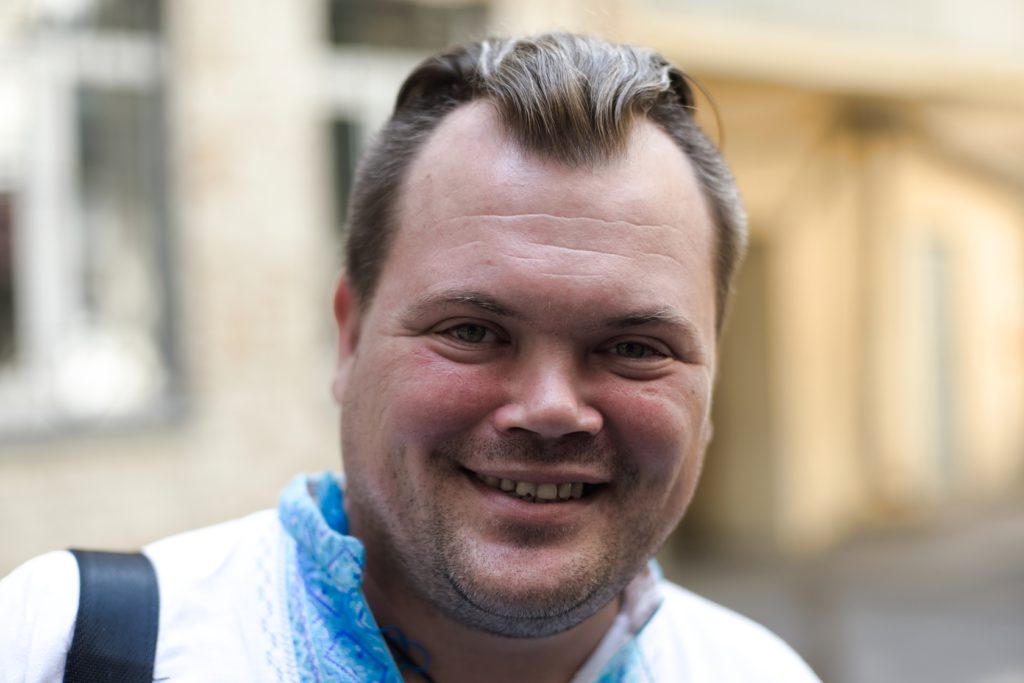 I returned to this agency, worked there for 3-4 months, and made a decision to carry out independent activities. I registered an individual entrepreneur and I am currently engaged in real estate: lease, sale. In parallel, I take an active part in the public life of my city – I created "Sofiyivka ATO" public association, an association of veterans and volunteers, there. I am actively cooperating with the Kyiv Regional State Administration and Kyiv-Svyatoshinsky District State Administration.
We transported building materials to Bakhmut, Avdiyivka, the city where ammunition recently exploded. But the main scope of activities is the rehabilitation of guys, their recreations and help directly in the ATO zone. The last time we sent uniforms – garments and combat boots – worth 70 thousand. We are currently preparing cars for departure. In parallel, we work. This is how we live.