AFTERILOVAISK. "Khmara"
My rehabilitation is to spend time with the guys (in the ATO – editor's note). You hear fires and start feeling better, and then you can already go home. This is the best rehabilitation for me.
Photo: Markiian Lyseiko
Ivan Ivanovych Rebar, codename "Khmara" [Cloud], Illintsi, Vinnytsia region "Donbas" battalion
I took part in the Maidan from the beginning until the end. I was wounded there, I had a cut on my head, and doctors had to stich it. When the Maidan was over, I decided not to stay in Kyiv. At that time, the turmoil in the Crimea started. My friend and I were transporting supplies to the Crimea. We managed to get there, but barely got out. Then I came home for a while. My wife did not know where we were going. I stayed at home for a while, my friend and I loaded supplies into a ten-ton truck and went to the isthmus. I was a volunteer for some time, was at checkpoints.
Then I returned home and planted a vegetable garden in the village. A friend of mine called and said that "Donbas" battalion was being formed in Kyiv, and there were many people from the Maidan there. I listened to him, loaded a car with supplies together with the guys, and drove to Kyiv.
My wife asked when I would return, and I replied that I would be back the next day (laughs). In Kyiv I sent the car back home and stayed in the capital. My wife called and asked "Where are you?" I told her everything and said, "Come here to see me taking an oath." She did come. My wife is such a patriot; she can encourage anyone. She was with me on the Maidan. And children were waiting for their father and helping their mother.
I went there voluntarily, my heart told me to do this, because they had seized our territory. I had to go and protect our Ukrainian land. Everything was as in a treadmill: Maidan – Crimea – Donbas – DNR/LNR.
Artemivsk, Lysychansk, Popasna, Solidarne, Slovyansk, Mykolaivka – those are the places where we were fighting. Then we were transferred from Popasna to Kurakhove and had some rest there for a while.
At some point, our platoon commander gave an order to mop the area up, this was supposed to take one day. This is how we ended up in Ilovaisk. We didn't know that we were going to such a major mop-up. We gathered our belongings in silence and went. Even though we were going for one day, we thought that this could take longer, so we took more provision, namely for four days.
I was injured here on August 24, 2014. I remember when our group went to the very center of Ilovaisk on August 19. Many guys were killed on that day: Franko was killed, Shults was killed, Ulybka as well. 
Pyekhan and I found him under a fence. Probably he decided to run across, and a sniper shot him from a building. On August 19, there were so many deaths; I don't know how we were supposed to reach the destination – only God knows this – but everyone was walking. Something saved me that day, good riddance. We lost many guys. It's hard to think about this.
I was injured on August 24, when our "Uncle Petya" [Poroshenko] was organizing the parade. They were going to mop checkpoints up and were approaching Ilovaisk from the other side. We mopped the first checkpoint, then the second one, the third one. It was either the fourth or the fifth checkpoint. I climbed into a trench, there was a dug-out and three "non-Russians". They started shooting at me. I fired back, and then got injured. I am grateful to the guys, of course, that they covered me, and shot them; only of them managed to escape. At least two of them stayed there. 
I will never forget that red-haired face of the guy who was firing at me. He was, apparently, either a drug addict or something like that, because he had such an evil glare.
When I entered the trench, I saw his head; he apparently got scared and began to hide. I fired several bullets, and he started backing. Apparently, they started firing at me. Vitaliy Yatsyk later told me, "Khmara, you must have been born under a lucky star". The guys said that a barrel was the only thing left from a PM (Makarov pistol, small arm – editor's note).
One leg was badly injured, there were fragments inside, but I had gotten them in Starobeshevo, and they are still in my legs. I have recently taken one of them out of my head. All my body was cut.
I am grateful to the guys; they will be like brothers to me for the rest of my life. We are as one family, as one.
I came to my senses near the school. Mishka Mikhtey was already there, Murka, Koshka, all the girls. I was on the table. I must have been drugged. Then Romeo was brought, I regained consciousness. An hour or an hour and a half had passed.
They transported me on a battalion's bus to the nearest village, where members of the Armed Forces of Ukraine were positioned, to Mnohopillia. We were brought there. In Mnohopillia, Mikhtey handed me over to the military men. There I came under mortar fire. And not only me, there were many wounded.
In Mnohopillia, I lay on a stretcher under an oak tree. Just when someone gave me a cigarette, the mortar fire started. With this cigarette, I somehow got out of the stretcher, crawled, hid my head in a pit in the ground, and smoked the cigarette there. When the shelling ended, we were all taken into an UAZ car and driven away.
I asked the starley (senior lieutenant, military rank – editor's note) to give me a grenade, and I got to Starobeshevo with this grenade.
But before Starobeshevo, half a kilometer away from the hospital, we were once again hit with an MLRS. All of the wounded, including me, were once again alone. I was lying under a garbage container hiding, but I did not let go of the grenade. The shelling ended, separatists stopped shooting, they damaged one side of the hospital building. Then we were taken to the hospital.
There I handed this grenade over. Then they, apparently, drugged me, I was unconscious again and regained consciousness at a military hospital, where I was taken to Dnipro by helicopter.
I recovered quickly. Despite of complex surgeries. The first operation at which a bandage was set up was performed in a field hospital. My legs were covered either with "Ceresit" or with cement, blood was wiped off my body, my ribs were a little broken.
In total, I had nine operations. They put my bones together. My wrist was fractured, and they implanted a cartilage or something like that. In Dnipro doctors patched me up and sent to Estonia.
And in Estonia I had serious surgeries. Then they put some apparatus on my leg, it was adjusting the leg, had tractions – it cost 11 thousand euros. When I arrived in Kyiv, the doctor told me, "Rebar, take care of your leg, because this apparatus will be cut off together with your leg."
Treatment in Estonia was very cool. I did not go there to fatten up, I went there to undergo treatment. I am very grateful to the doctors: both to our Dnipropetrovsk ones, especially Ivan Ivanovych, in particular, for the moral support, and to Estonian ones. Medicine is advanced there, so it was great.
It took me probably a year and a half before I started to walk on my own. I did not undergo any rehabilitation; I can rehabilitate anyone myself. If you want to walk, you have to use your brains. After all, you have three children, your family. In two years, I have only been in a hospital once.
I do not want any rehabilitation. My rehabilitation is to spend time with the guys (in the ATO – editor's note). You hear fires and start feeling better, and then you can already go home. This is the best rehabilitation for me.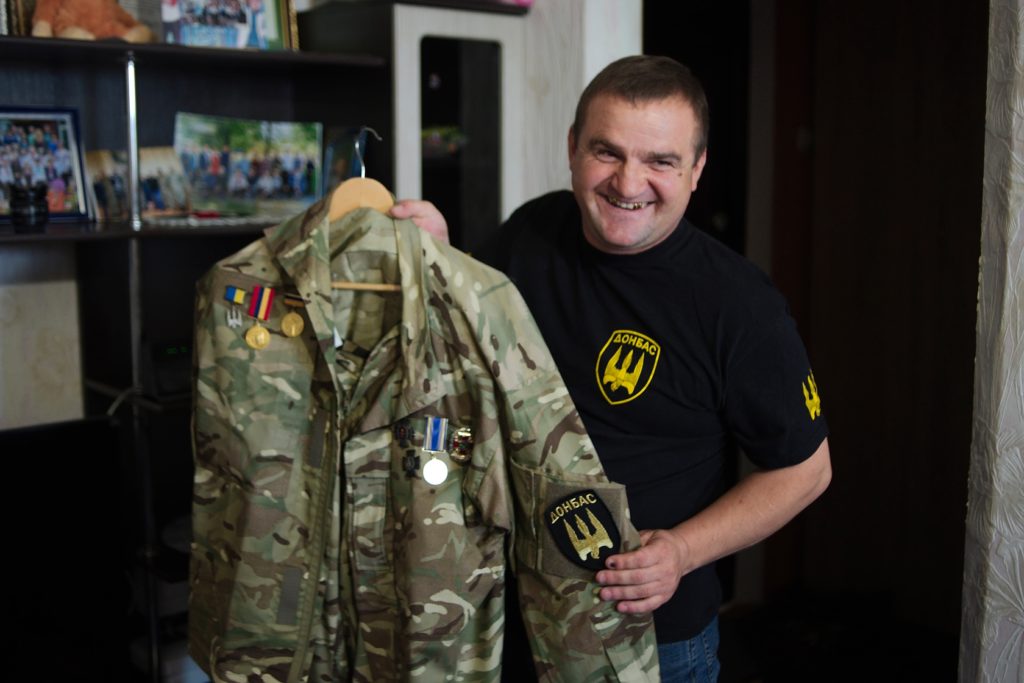 Before the war I was at home, doing some business. I was a tractor driver and was engaged in farming. I put the last tractor up for sale because the guys need help.
I am currently an acting village chief, the head of the village community. An amalgamation is underway in our community. I was a village head for two villages – Volodymyrivka and Tyahun. Since we have this modernization underway in the country, I am currently an acting village chief.
I am engaged in the provision of urban services and amenities in the village. I annoy our government a bit, because I want to make improvements in the village. And they don't need people like us. We annoy them a little. But you know, it is all for the best.
Guys from the 20th, 37th, 59th brigades call me. Everyone knows me, they know that I have a moderate disability and offer me a job. I would go today. But there is one problem: I cannot resign. I am already waiting for this transfer [of power], there is still an election scheduled for fall; I will resign and will go somewhere in any case. Sometimes I do feel depressed. I look at photos on Facebook. I am really waiting for Yuriy Foks. I am really waiting for all the guys.
Foks disappeared when everyone was leaving on August 29 and was reported missing. I was not there. I asked the guys, nobody knows.
Nothing has changed for me. Victory will be ours. By all means, we will defeat both the enemy in the person of the Russian Federation and our invaders. "Yanyck" [Yanukovych] fled, "Uncle Petya" has nowhere to flee. I want the whole world to hear this: if there is a need, we will gather millions of people.
Poroshenko has three options now: a martial law, re-election, and the third one is hundreds of thousands of weapons in our hands. He should bear this in mind. If he chooses the third one, it will be very tough.