AFTERILOVAISK. "Red"
"It was unexpected, though … He could not bypass it."
Photo: Markiian Lyseiko
Kharchenko Eugene, called Red, battalion "Donbas"
Mother: My son is Kharchenko Eugene, in the army called Red. He was born on February 1st, 1987, and died on August 29th, 2014.
I asked him what "red" means because I do not know English. Why Red? He replied to me: "Because it's short". Then I found out that it was a color. In general, he loved the red color. This is how he usually looked like: blue torn jeans, white shirt, and red moccasins.
The one thing I know: having gone to war, he was not ready to die. It was unexpected, though … He could not bypass it. He was very active, very accurate in all senses in this life. His name Eugene translates as Noble. It was certainly about him. I have already thought: the reason is that fate had probably given him such a short destiny, and many mothers think about it. Why does it happen to their children? Is something laid aside? Is something being transmitted?
As my husband said: "You will not keep him at home in slippers, you will not chain him to a anchor". Although I wanted to do it. Honestly, yes, in 2014. He was easy to communicate with, he was free in his life, he was "a cat who walks by itself", very authoritative boy in our district. Even if my son was not the best student, there was always a team around him. The team that let him down. At the time of his death, they came and asked me: "Why did you let him go?"
When the coffin was in our home, people came, looked at me and asked: "Why had you, Natasha, let him go there?". And I replied: "You knew his character, why do you ask me such questions? I let him go there so that you could stand here freely".
He was always involved. A fighter for justice. And this was not always beneficial to us, and not always did we like it. We really wanted him to be a calm and stable man.
Father: He did not like violence when those who were stronger put pressure on the weak, he did not like the pressure at all. The same with injustice. He was the man who was born before his time.

Mother: In all aspects of his behavior he was an independent adult. Always hurrying. When he entered the academy, he said: "Well, I do it because you probably like it, although I do not". At the time Eugene was studying this war occurred, so he took his books on topography and military affairs, took his cap and said, "I'm leaving for it". It was in 2014.
Brother: It was May when you phoned him.
Father: And he passed the armies commission. He did everything on his own and then put us in front of the fact he is going to Donbas.
Mother: One-day Eugene came from his job. We watched TV and there was a reportage about Crimea when the annexation happened. So, he stood in front of the TV and said, "Why is this happening!?". And at that moment I had a feeling the blood rushed to my head. Some days later my nephew gave me a clue: "Eugene is training for the army, you know?". And I begged: "We have to persuade him not to do this!". My son did not listen. The fact is that he had gone to the military office named "Darnytsky" many times before together with his friend Vitalik. They are the same age. Eugene went on his own accord, and in a couple of weeks a summon for him came to our home. If only he waited for this summon …
And his friend Vitalik waited so he left only when the summons came to him. But my son did not wait, he ran to volunteer in Donbass battalion. When he came home, I was hanging linen in the yard. He appeared so fast, always have had such a flying pace. I looked at him and asked: "Why are you so early from the job?". And he said: "The reason is the lights were turned off. Sit down, I have to talk with you". Immediately, everything became clear to me. I replied: "It's not necessary" and began to cry. He claimed: "You do not understand me. And do not cry, do not try to persuade me. This is my decision. Now I will go for a walk. I have to meet my friends".
Eugene met only one. Having decided everything for himself he clearly understood the responsibility that could have consequences and wanted to say goodbye to his friends but only one friend Jaroslav arrived. This boy still comes to us, but the others … "Why did you let him go?" Well, we did. As my son went there, he must have known that we were always with him, we were a reliable rear. I and my husband did not make this decision for ourselves, in our souls, we simply supported him. We accepted this position as parents. When Eugene was in Petrivtsi I prayed embroidering his pants with red and thought, "You can lose everything, but you will not lose your pants … Perhaps, he was not in those pants then". We heard his words from another friend Anton: "I am so lucky, so lucky. There are so many misfortunes with the boys. I feel my parents' care, the protection their prays makes". And I begged Anton to tell him not to say such things aloud. Well, if there had not been such a "corridor", he would have been alive, you understand?

Father: Well, of course, he would have been alive, especially as he was a prepared fighter. I was 100 percent sure that he would come out of any situation. If not this "green corridor" … Their entire group was professionals. They knew how to fight and how to keep the defense very well.
Mother: Semyorka, our neighbor, did not know that my son was from Bortnichy. Then, as Semyorka got out of enemy captivity, he came to us: "Judging by Red's behavior, I realized that he was taking care of me, he knew that …". Semyorka has a son, he and Eugene got to know each other somewhere. For the first one year and a half, we did not communicate with anyone at all. People were then and, probably, are now afraid to approach us not knowing how to help us. Some of them ask: "How did you overcome that?". And who said that we overcame it? Is it possible to do? I understand that they do not want to offend us, but people are different.
Father: Then when there was an exhibition, the journalist from the 24th channel came and asked: "Are you happy that your street is named after your son?". I looked at them: "Em, yeah … very happy".
Mother: We have a neighbor Jeenina who is a history teacher. She has met me once: "You have a monument of your son, very great!", and I said – "Can we change with you?". And others say: "You have such a gate! So beautiful, so bright!" and I reply: "What prevents you from painting it?". And why did we paint these gates, do you know?
It was August 24th, I knew that Eugene should go for a rotation. He phoned being in Ilovaisk. He did not phone to all of us day by day. One day he did it to the brother, another – phoned to me or my husband. I knew that he was in Ilovaisk, but we did not understand that it was so serious. We did not understand …

Father: He made us calm down. I knew that. I packed my bag and already wanted to go there. One-man Pavlo (called "Bunny", who also died during the exit of the "green corridor" – ed.) lived near us a week after being injured. I became friends with him and it was possible to get some information. So, I phoned my son and, when he said, "It's all right!", Pavlo confirmed it. I told I am going to visit him and check whether everything is normal. And Pavlo claimed: "Why are you going? We will be going to Kyiv, there is no need to". They persuaded me. The only thing Eugene told me is that he wanted the gates to be painted. So, I stayed home not to make him nervous. Because in this situation you cannot be nervous, you need to make the right decision and have a clear mind.
Mother: Well, Eugene was taken from Dnipro (the body of the Red – ed.) – and we were painting the gates at that time. He came and saw that the gates were already painted. It was September 20th, the 21st we buried him.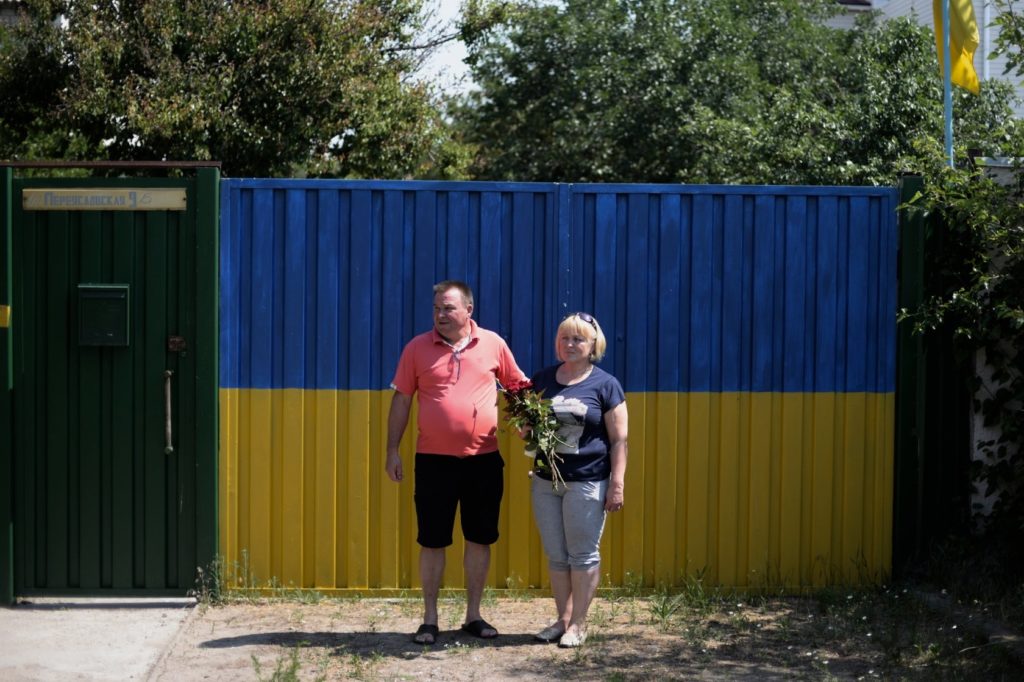 we buried him.
Father: When the battle was going on, Eugene got up in full height and shot from a grenade launcher. A fire truck (they traveled on a fire truck in a "green corridor") rode along the field, imagine how it was shaking the soldiers. A man cannot stand on a barrel and shoot a grenade launcher. But he could.
Mother: He got up in the morning, took a lightweight backpack, a toothbrush, toothpaste and had gone. I said: "What was this? Has he really gone?". And then he was in Petrivtsi, I asked: "And why is our child there? He has no one with him?". Let's dress him, put shoes on him. This is our child. You may fall on your feet as a stone falls, you may chain him to the anchor. What can I do? We had accepted this situation …
Father: The eagle cannot be locked in a cage, it either soars or …
Mother: Andrew once said to me: "Let's go visit Eugene". We arrived, a fuss was there, my son appeared, then sat in the car, and without turning his head back: "Mom, we will set off today". It was June 11th, and they went on that day. And I just start sobbing with tears, like a child. He was sitting without turning his head to me. "Mom, do not cry! I will return soon" – I heard.

Father: He made a decision when the problem with Crimea occurred. He said: "Donbass is not the main problem – Crimea is". I replied: "Eugene, so I am the one who should go, I have already been in the army, everything will be fine with me". And he disagreed: "No, I will go first, then I will return and you will go". Our plan failed.
We do not need help from the government now. It is extremely important that they finish the war. Now I will show you the official documents that were given to us by the Office of National Guard. I'm showing off everything, I did not want to go for this reward.
Mother: The column of soldiers moved towards Donetsk city and got under mortar shelling. The "Vosmyi" officially died a month ago, in July.
Father: It is written that he died as he drove in the car towards Donetsk city. Unknown people shot him, some unknown people. There are no witnesses, at all. It is an official document, it has the seals but everything else said is a fairy tale. The interview you make now – it's not official. But on this paper everything is official, there are signatures of 8 lieutenant colonels and colonels. I show this to everybody, that is the government's attitude about this tragedy …

Mother: My son once phoned me and said: "There's a Bunny, he's my friend, in a hospital in Lukyanivka … Mom, just do not joke about him, he is offended when somebody calls him Banya, not Bunny". At that time I did not understand who is "Bunny". Then Anton showed us. He was two meters in height, in plastic flip-flops,… in shorts and T-shirt. I asked: "I do not understand Bunny, what is your real name?" And he: "My parents called me Pavlo". He always slept upstairs in Eugene's room: there were cool climate and good internet. Talking with Pavlo was like talking to a TV. It was hard for us to squeeze out any word from his mouth. I asked him: "Does your mom know?". "She does". "Does she really know that you stay here?". If I knew my child after a wound is in someone else's family, I would have run and I would have taken him home.
Father: Bunny was an agent. One day someone of the soldiers was going from their vacations in Zhytomyr back to war and he immediately exploded: "Come on, let's go with them". So the medical sutures remained on him.

Mother: On August 27th, we were standing at a protest under the Administration of the President, in the evening and we were also under the Ministry of Defense. We broke into there and at that moment I realized that nobody would help them. Eugene sent me a message "Everything is okay" from Pavlo's telephone. And in the evening, at 17:30, when we were at home, he phoned us.
There was some kind of noise, some whistling, he was calling me: "Mom, Mom …". Anton asked him to get out there: "You're a scout, get out of here!" He replied that he would not leave anyone there: "I will not be able to live with this later". The enemies could give them a chance to leave at night, by small groups, but they didn't.
Father: … the soldiers would have gotten out of this spot in such a way. They usually get out of being surrounded in small groups.
Mother: Sasha, Dad, told me about Eugene. There was such an episode. I do not know where it was, probably it was in Ilovaisk. Red came back from the scouting, he brought five cakes in a handkerchief. And all the soldiers asked him: "So what did you bring? ", and he said: "One granny has given this to me". They wondered: "why are they so few?", and he told: "The granny has had no more flour". Then my son collected everything edible that the boys gave him and carried it to her. He always said: "These are our people, these are ours…".