AFTERILOVAISK. "Pekar"
" If this started again, I would go. "
Oleksandr Mykolaiovych Pivtoratskyi, codename "Pekar" (baker – tr.)
Oleksandr: I came to "Dnipro-1" battalion when "green men" appeared in Crimea. I worked at the factory, the third-class confectioner, godfather of my child called me and said: "Let's go." Well, I went out for lunch, asked my master for leave. I told no one else.
We were then gathered in an assembly hall, we could write an application for up to three different units. I wrote to each of them. They also asked if I understood where I was going and that I could die there. The next day I was interviewed and enrolled. The same day I quit my job and joined "Dnipro-1" battalion, that is I had not a day of unexcused absence between the factory and the army. I told the master: "I'm sorry, but I have to be there. I will not work for two weeks because I have no time." She said: "You have to warn me in advance, but you're a good lad. I am proud of you, you will more needed there." I told my wife I would guard the city at checkpoins.
I realized I was going to war, I could die there. I don't know why but I realized that. I also knew I was needed there, I could help: I served in the army, in special forces, and worked in "Berkut" in 2002. I have been a senior sergeant for 9 years. As they said in Lithuania: "Sergeants manage the war, and officers are created for scribbling."
There was a period when we were not allowed to go home, and my wife wanted to see me, so she came in Mariupol to see me.
Yuliia, wife: It was August 17 or 18, Sunday. I left Mariupol in the evening and you found out that you will be moving forward somewhere. You went to the unit to get ready and on Monday, in the morning, you went to Ilovaisk. We met that weekend, and I went back to Dnieper. And I was empty-headed: I came to Mariupol in vyshyvanka (embroidered shirt – tr.) and thought why everyone shrink from me (laughs). I went back on the bus and sat right next to the driver, and the "KIA Cargo" car drove into the city. And from that moment on, I started getting cold feet periodically. Already then I've understood all that wasn't a joke and I became absolutely horrified.
I did not know at all they had left, for several days. And then my friends told me he was probably in Ilovaisk. And once he called, and I asked "where are you", he didn't want to answer, and so I guessed: "If you can't speak, then the first is letter "I"?" He confirmed. And then I started monitoring everything that was happening in Ilovaisk.
It was sometimes heard, when he managed to call, that he couldn't speak much, did not know what to talk about, so as not to tell everything out. He asked how I was, what was I doing, did I eat? Stupid talk, but important to know of being alive at least.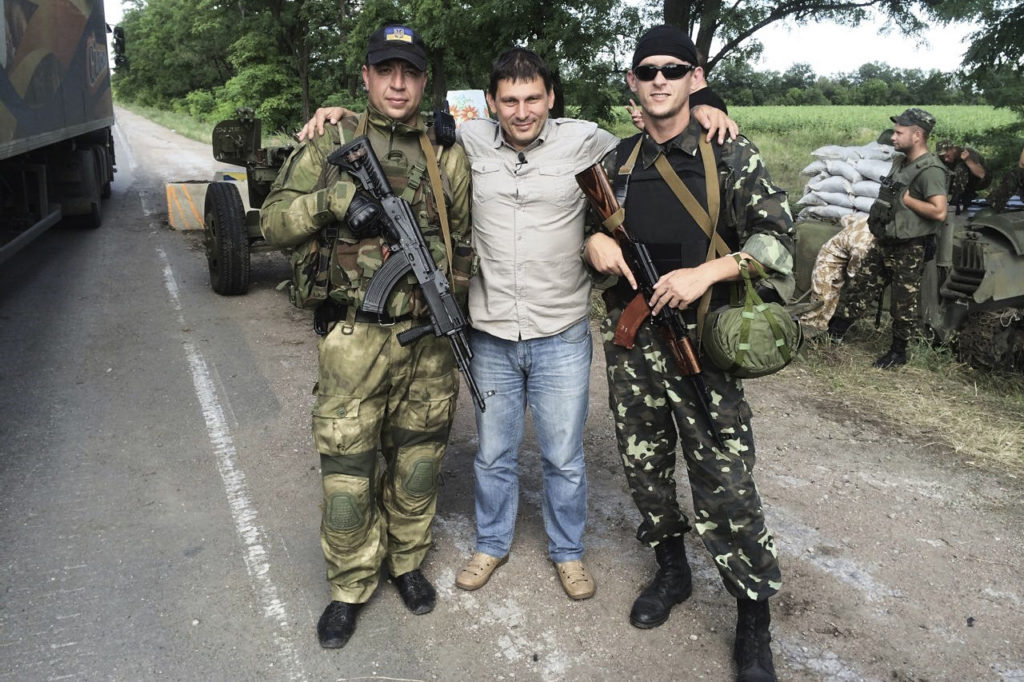 Once there was a story shot at school spreading over the internet. I watched it for a very long time and carefully, but did not see him, I was a little upset. And once he called, I told him what I've had for lunch, we usually had such conversations, and he was asking and falls silent all of a sudden and then utters: "How does the bread smell?" And everything cooled down inside. Then, upon his return, he said that they shared half a loaf of bread for all.
Oleksandr: We found bread in the car. We were out of food at all. We decided to share it for everyone. By tithes. We waited for the commander back from the meeting. The bread smelled very tasty.
I called her on August 29 at 8:05.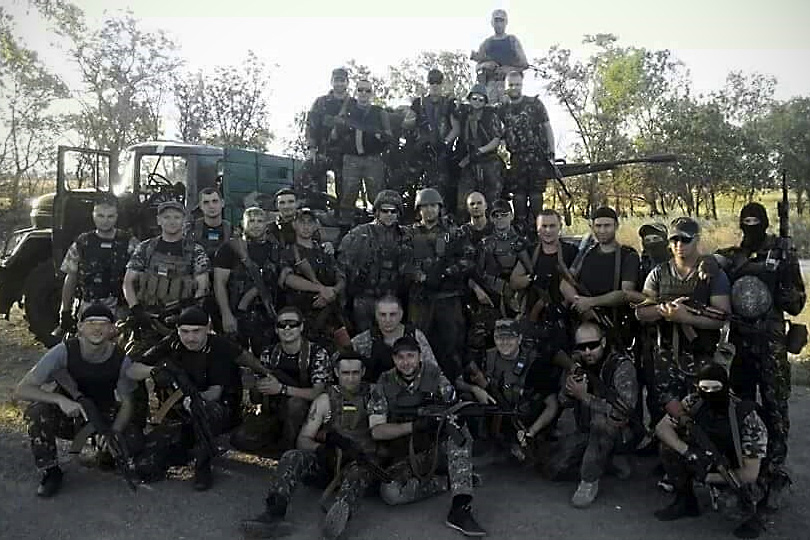 Yuliia, wife: He said nothing, only that they were preparing for something. I watched the new in the morning at 8:00, it was a habit. The news said that aviation flew for support, that there was much assistance. And just then he called and said they would drift back: "We will come out, and break through and go through the fields if this fails." And then the connection broke. And I heard him on August 30 at 9:00 for the next time. He called me from someone else's number, asked where I was, how I was doing. I said that I was at headquarters, we were waiting for them. He barely said: "Go away, we will not come there." The connection was cut off, and I didn't call that number, I was afraid, because I didn't know whose it was. Comrades-in-arms and other people claimed that the best option for them was to surrender to the Russian soldiers, so as not to be caught by the separatists.
I knew Sania would not give up. I heard that everyone took a grenade with them. Others somehow called back, let hear from them, but here – nothing at all. I turned gray for half an hour (laughs nervously). Then I decided to call this number. He picked up the phone, I asked, whether he was injured. He said "Scratched a little".
Oleksandr: It was clear this was not a corridor. They stood, waved their hands at us, and I waved to them. And they already knew they would shoot us.
So, all our equipment was broken, and we had nothing left to go on. The guys started climbing the KRAZ. I thought it was good it had big sides and they wouldn't touch us thinking that we were transporting something. Obviously, they will cover the vehicles with manpower first and foremost. So I decided to climb the board KRAZ. I had a medication bag. I had already started climbing, put my foot down, but there were many people there, and I changed my mind, ran into a white sprinter, a GAZelle. Then guys told me there was a battle load-out in this KRAZ, and it was hit. Gut instinct.
We were just going to the field as the GAZelle broke down. And I saw 2 or 3 clowns with a mortar to the left from the woodland, nearly within a kilometer: "We are being shot at!" We saw the Russians, their circles. I saw them attacking. And as soon as we left, mines flew into our GAZelle. We immediately started escaping from there. The driver said the engine was shot. We ran out of the car. It exploded. I got up and ran. I used to run away from cars. They would not bypass me. I was running as I heard a matiz (meaning Chery QQ minicar) opening the back door and I jumped in there and we rushed away. We had a red car with hearts on the disks.
I always said to the driver: "Your task is, if you die, to floor it and take us out of the field. Since then, if you don't take us out, I'll kill you **tch (laughs)." A stop meant death.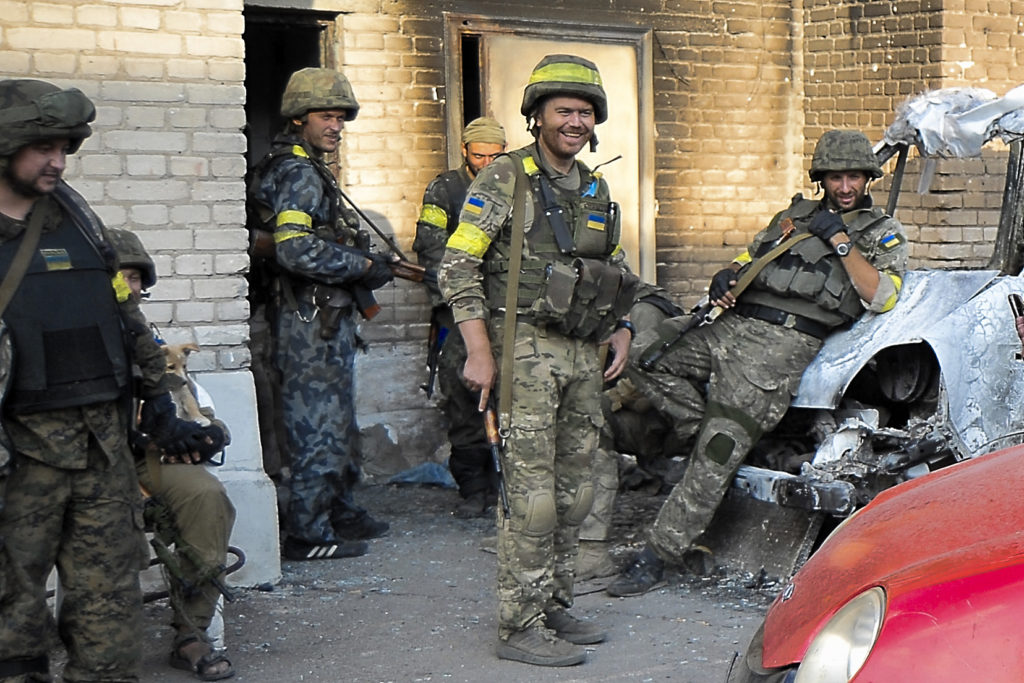 We drove to a village near Krasnoselske, and rockets started coming from there. We slipped through the field, stopped in Krasnoselske, it was quiet there. There was some armor before us. We were passing it and it is immediately hit: a tank, an APC and a Ural exploded. So we left alone. We saw ATGMs (anti-tank guided missiles – Ed.) working there and thought they were pointing us we were moving in the wrong direction. We climbed up, and heavy firing began. I started yelling at the guys to get out of the car. We ran out and lay down on the ground. Eventually I saw the "cuckoo" destroyed.
Then "Chaba" told me: he saw our "cuckoo" to explode, dragged me by a hand into a "gazon" (GAZ – Ed.) but then I fell out somewhere, and "Chaba" thought I was killed. I saw the guys running across the field, being torn and thrown apart. Such was the corridor.
Oleksandr: Further I was running over the field, it was impossible to stay in the field. A pontoon bridge vehicle was passing me and I thought they would not touch it. I climbed this pontoon bridge and hung. I remember those sunflowers as they beat me on eggs. There, on that bridge, were nearly 5 people between the wheels. The left side was covered, between the two spare tires, so it hit into the right one. I was in a bulletproof vest – it protected me from small fragments. A young guy jumped to us, he was probably 18. He was hanging below, I grabbed his arm: "Youngin, I'll hold you, just hold on." I saw fear in his eyes and he shouted, "What will happen to us?!" What will happen to us?" And I look towards the woodland, 30-40 meters away, and they ram right on us. And I realized he was over and there was nothing I could do. And I told him that everything would be fine, I saw him to calm down. He calmed down and died instantly. I saw he believed me during those split seconds. And that's all. Then I remember nothing.
I woke up and the first thought: "wow, cool counter strike, and is there the second level?". I started recovering, looked into the cabin: there were two people sitting there with the brain on the glass. So I realized we had arrived. The car stopped, it was on fire, and I needed to get off.
I got off and found myself on a hill, my upper body was hidden behind it, my lower body and legs were open for a sniper. I even see him. Exchange of glances – he "live-lured". Waited for the guys to creep up to me to "take them out". My whole right side is pinched, from the neck level to the heel. The right hand hanged like a piece of sausage, pieces of meat stack out from the leg. Guys were running farther in the field, mines were popping at ground contact, and I saw them being torn to pieces. Everything was on fire. I was just frying mercilessly. And I watched that like a movie. Suddenly a shadow from the cloud came, it became so good, cool. I looked up – and there carrion crows were circling around. Lord, I thought, how beautiful it was. I'm probably crazy, yes?
There were AFU soldiers near me. I tried to talk to them, come up with an action plan, but it didn't work out. I asked for butorphanol, pain reliever, they injected. Then we were coming out together. The field was scorched to make us well visible on it. I understood: if we stop somewhere in the field, we would toast. The feelings of hopelessness, when you want to live, to be taken away, have helped.
So I changed 4 cars during the coming out.
Oleksandr: Then, when we were exchanged, the Red Cross took me. I didn't understand where we were going and asked the guys to constantly ask where we were going and where ours were. At that moment I was already injected with butorphanol. Then we were taken out to the field and promised that helicopters would come for us. It was evening, I don't remember, there were 7 or 10 cars – every turned on the lights, for us to be seen. But in fact, we drove off just a couple of kilometers. I was coming to my senses from time to time and was shocked: after all, a helicopter will be able could collapse at any moment during landing. They approximately knew the square, and we would hear the helicopter. But they only answered me that I was paranoid. And when I came to my senses again, they turned off the lights and made no noise.
I have a bulging number of injured shoulders, a forearm, a non-penetrating one of sternum, low back area (2 fragments are left there), a right thigh, a lower leg, under the knee, the sniper reached me. Damaged fibular nerve. Right hand, shoulder.
Yuliia, wife: And I received a call at 6 in the morning that there was information about my husband, the helicopter arrived.
Oleksandr: At that moment I realized the war was over, I cried for the first time. But I rode a helicopter instead (laughs).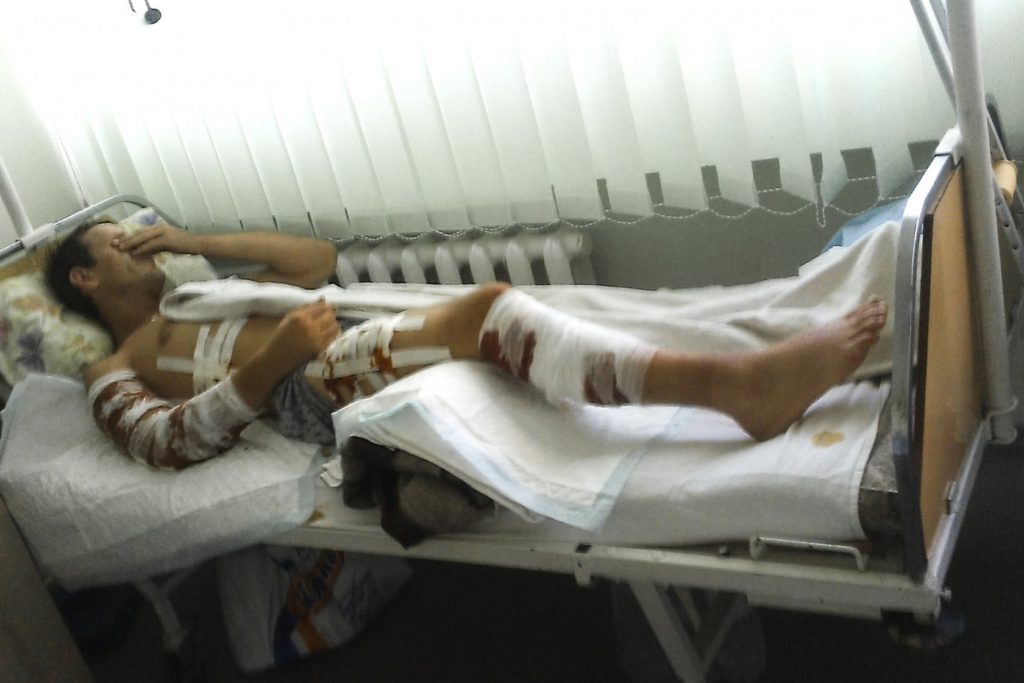 Do you know at what point I realized the war was over? I was not taken away immediately, by the third helicopter, although I was begging, but there was no place. Guys, I cried for the first time among this mess. I flew here, then I saw the city, then I zonked out. And they touched me gently, you know, like to wake me up. And they were lifting stretchers very easily, so carefully, not like at war. I remember when I opened my eyes, I immediately came to senses and started pulling away because so many people were around me. And they told to me, "Quiet, son, quiet, everything is OK, you're home, you're home." They gave me some water. And I started crying, it came out. They would repair me, not a big deal. Although when I was brought to the hospital, they wanted to cut off both hands, but my wife begged: "Save his hands."
I have no regrets about my choice. I've checked my eggs, so to say. Now I know that I am cool, I can go through everything, I know how I can behave in extreme situations. We had special forces' soldiers there who gave away their weapons but I don't throw stones at anybody. Everyone has their choice and their level of fear.
Yuliia, wife: When it all began, he said: "I will go." I understood it would be so. And I believed that he would succeed, I saw him in extreme situations: how quickly he reacts and mobilizes, he thinks rationally. And a sense of justice, of course.
Oleksandr: I just didn't want them to come to Dnipro just as they took away Crimea. They will also go on cars with assault rifles causing mayhem. I realized they would do what they wanted. I decided it was better to stop them there.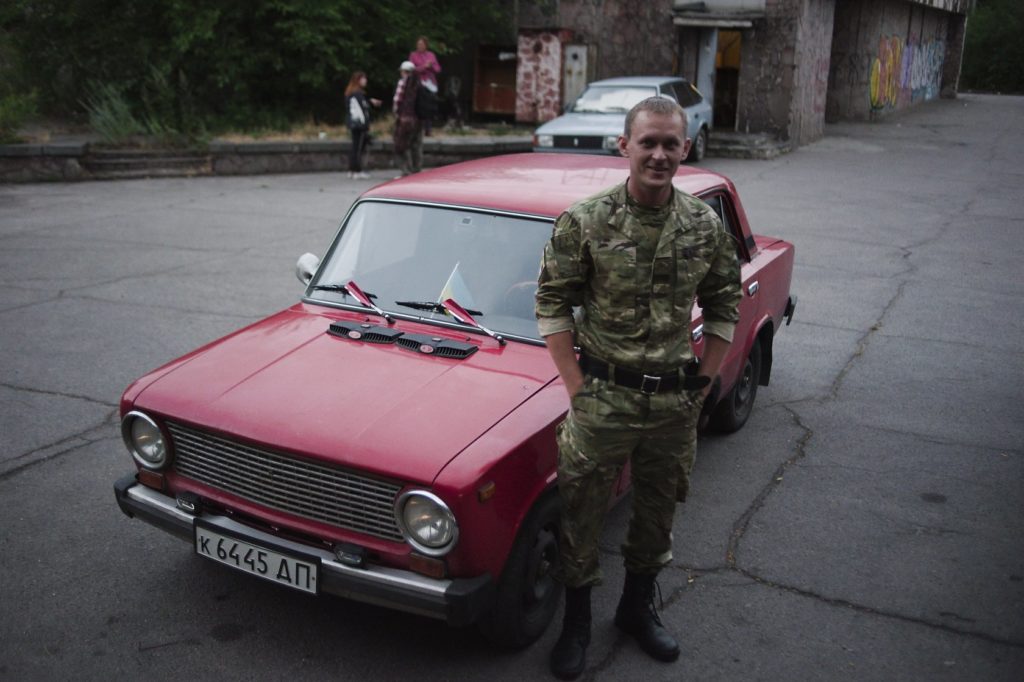 Yuliia, wife: They began to massively bring the wounded. 87 people were brought on the same day from Ilovaisk to Mechnikov hospital. There was a very cool volunteer movement in Dnipropetrovsk. People just went to help. Even if they had no money, they carried food, they simply were coming to help, take care of the wounded. And then, after the surgery, there was such an incident.
I closed my eyes and saw Sasha lying, and he says: "Lord, save me, I want to live. I want peace to settle, clear sky, and children walking in the park without any troubles." Two soldiers were in the room with us. He was still under general anesthesia, saying: "Let's come out, come out. Give me the "F" ("F-1" grenade).
Oleksandr: If this started again, I would go. I know how to behave, and the guys from the districts, sportsmen also say, "Sania, we will rush to you. We will shoot because we know you will not leave off." I will make them normal guerrilla warfare, if they come here. I run quite well, though I'm disabled. In 2014, there were dream just to stop them from spreading out. I realized this was a disease and it would spread. Our people are rotten to the core, they will come for money. I wanted to show people there that we are normal, this is our land, we were born here and why should we spread for someone if we can do everything on our own. We are the richest country. Being treated in Lithuania, I saw people growing corn under irrigation. And we can throw 10 in the summer and 2-3 plants will grow without watering.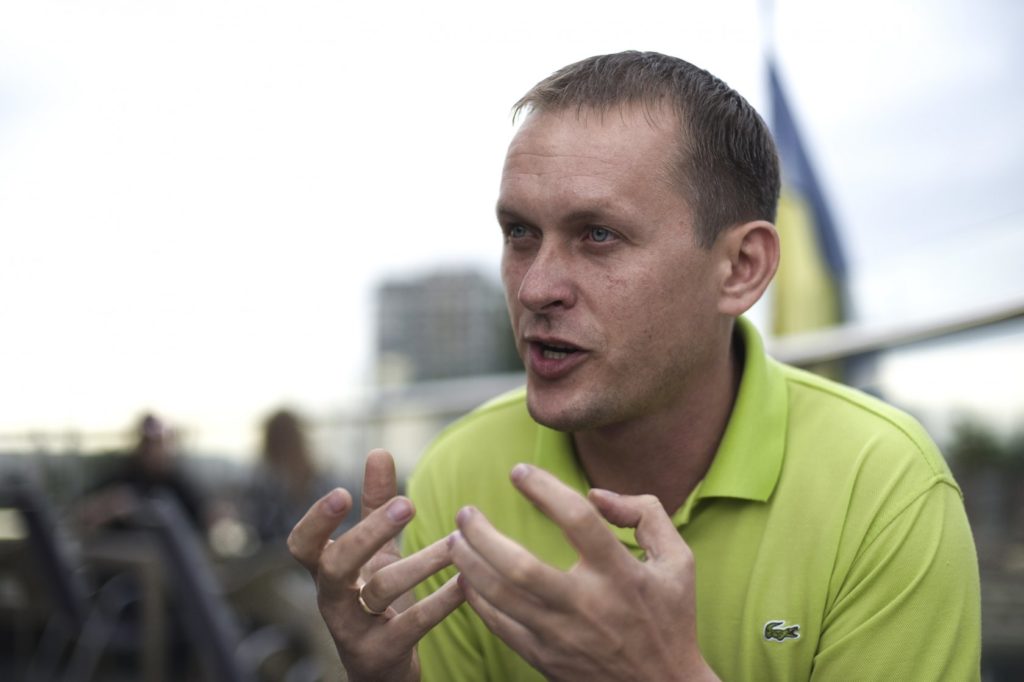 I understand that our troops were ordered to stand and they stood, no one understood or knew anything. And we, the volunteers, we were told to keep the point and we kept. I'm proud of each of the guys, Everyone. We had cool guys: both businessmen and doctors of sciences. And I'm proud to be acquainted with them, to have gone through with them.
I had problems with my wounds after all the surgeries. They were festering. I was taken to Poland for thiocyanogen baths, everything healed very well, and here, I was operated at Mechnikov hospital, stitched a nerve together, and then I was taken to Lithuania by a cargo plane (and only 2 of them are in Europe).
I had to work the leg up very seriously and I worked hard to work up. Gym machines, swimming, massages 3 times a week. Treatment abroad helped me a lot. I have normally recovered now. I can even beat someone, believe me.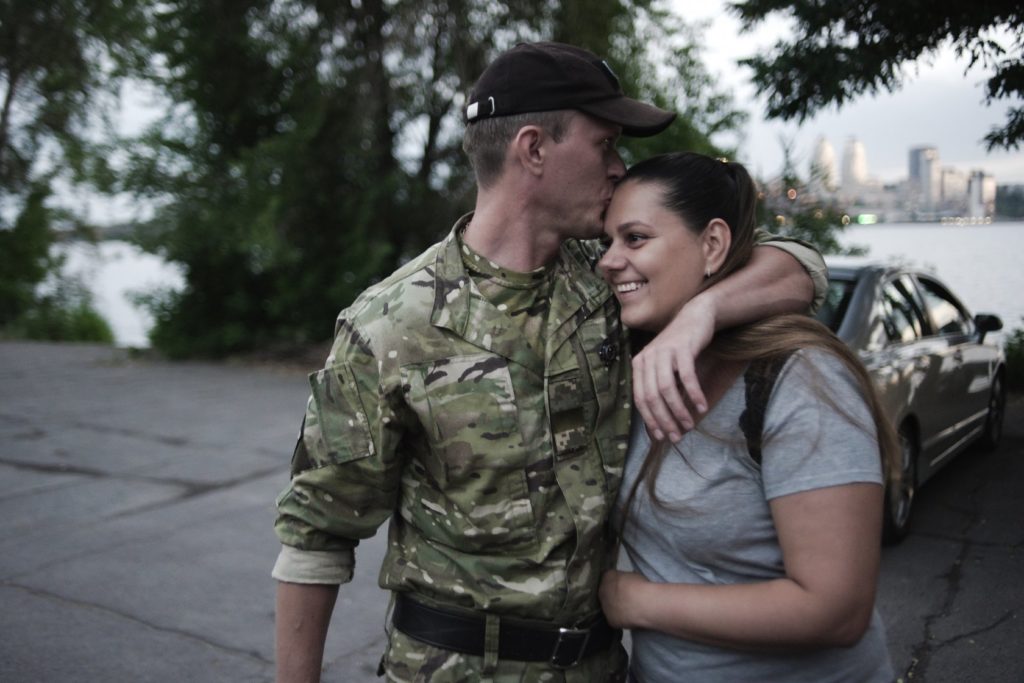 Now I have gone to the police, like many guys of "Dnipro-1". They say I'm "too faultless" because I say: you work for taxpayers' money, you work for people, go to a factory if you don't like it. We have the richest country and the best people.
I started with myself. If earlier I could easily run at red traffic light and when the guys drive, I say, "Let's wait. Let's start with ourselves." We just need to get started. Because is wrong to poke at what they do in a high-up place and behave in the same way.
As for the police, I see changes in those units where veterans work. People say those spheres changed where ATO-fighters work. There is justice: I do things in order, all citizens are equal. I have never thought about post-traumatic syndrome, exacerbated justice. Now I understand that we all have heightened sense of justice.