AFTERILOVAISK. "Chaba"
You need to remain human in any situation, it is very important.
Photo: Markiian Lyseiko
Anatolii Chabanenko, Codename "Chaba", "Dnipro-1" battalion
I had nothing to do with military affairs, only did conscript service. I worked in Synelnykove on croutons (snack production – Editor). Then I dropped everything and left. My mom knew nothing for a long time. She got to know later, when I was in Ilovaisk, just before coming out. Someone said. My wife apparently. I didn't get in touch with her; we have nowhere to charge the phone. I talked only with my wife for 2-3 minutes: "I am alive and kicking. That's all."
My older brother helped. He calmed down our mother. He also wanted to go to war, but I talked him out of that. "Parents are still alive, stay near them," I say. – "One is enough."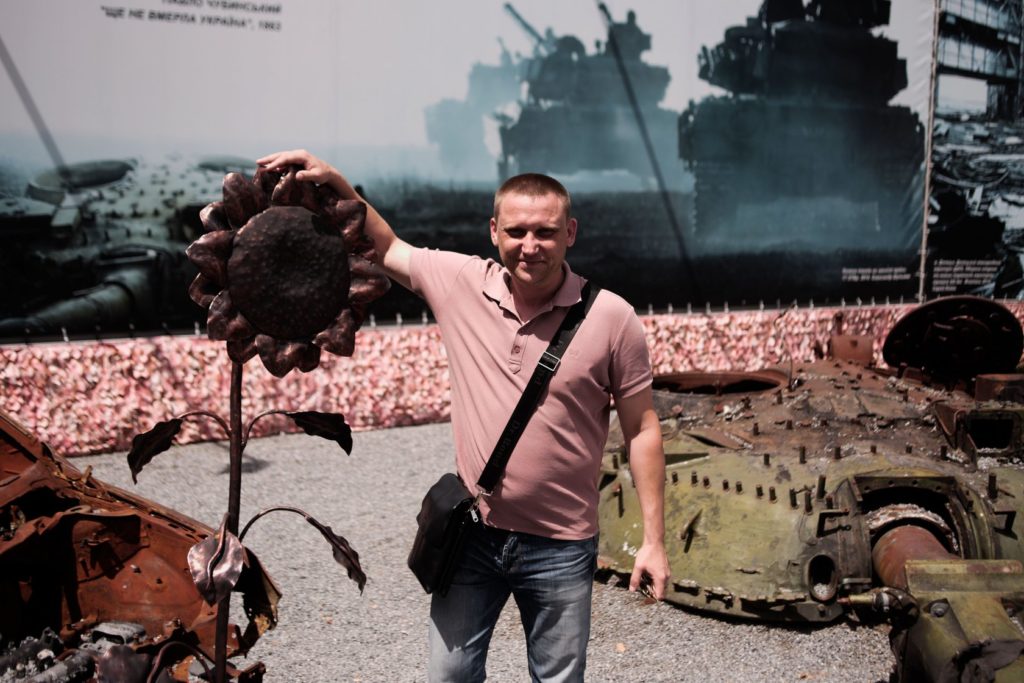 I joined the regiment in May 2014. When they grabbed Crimea, I realized they would come to (my – Ed.) home, if not stopped. There were many people saying: "We will fight after they come here." "No", I said, "guys, it will be too late." Then we will partisan. I was born in Dnipropetrovsk region, Viyazivka village.
When we came into Ilovaisk, we were told this would take several days, so started the cleaning-up. We were driving with the flag on – there were two gas cylinders. We thought to take them on the way back to have the gas to cook on. The house looked like an abandoned on, people have left. Empty. When we were driving back, grannies were dropping on their knees asking: "Guys, don't take this away from us, we will die of hunger here." This made me cringe. We gave tinned meat to them. "We are hiding from you in basements, because we were told fascists will come and kill us."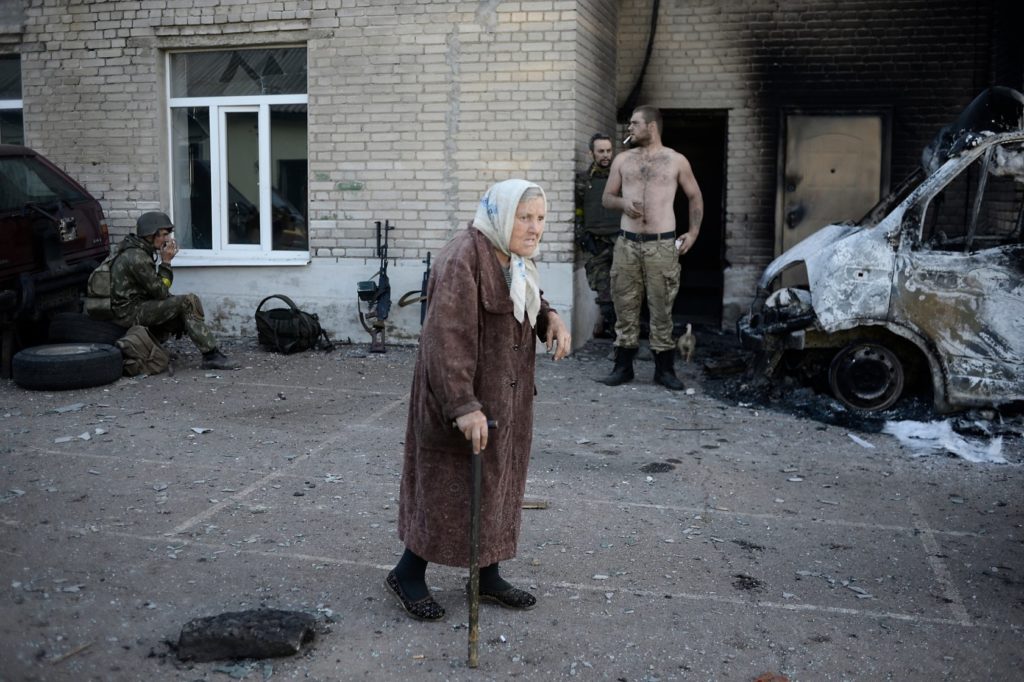 We cleaned up one quarter, separs (separatists – Tr.) moved to another. They were like Colorado beetles – they have been poisoned here, they go there, they have been poisoned there, they go elsewhere. A two-storied house, with a "flag"; and I entered the house – it seemed that people had just gone to work and would come back in the evening. So many dogs. You come in and they are sitting on chains. People planned to leave for 2, 3 days and then get back. So many those dogs: we cut collars with a knife, poured water and let them go. There were dogs we had to shoot, as they kept us out of them. Or rabies because of heat. And you understand it would die in a day or two. We came into the house. There was a bedroom, a bedside table, and a woman's gold watch on the bedside table. I said to the ensign, "Look." And he said: "Tolian, this is misfortune." But you see, as they say, there is God in heaven, I got out. Well, shell-shock, not a big deal, everyone had a shell-shock.
And when we sat in the basement, in the room, there were two more grannies, stayed there for a couple of nights. And a granny said, "Guys, who shoots, ours or yours?" I said, "These are yours, when we are shot at."
We went into the house of a local dweller, and he had an iconostasis there. Icons in the corner, and everything was stuck with flags of the DPR, for Russia, with such flags, pictures. Well, what could we do to him? We took a wander, took away the phone. Propaganda. I have understood a lot in Ilovaisk. And most of that – afterwards. Combats went to the Verkhovna Rada. Over corpses.
When they went on the offensive for the first time. Through a field. They started shooting. Uh, stopped. Separs were probably shocked. There was a team in the fields going to the fortified area. Warriors. They surely had eaten something. We stopped and called the artillerymen: "There they have a fortified area, bring down artillery fire on them." They said: give us the position data. What position data, we had no maps! And we were standing near the wood line, and I saw smoke spots in the field: puff- puff. I said to fellow: I feel, they range on us. Artillery said: mark yourself with smoke for us not to hit you, we'll bring down fire on them. We marked ourselves with smoke, and separs had our guts for garters by these smokes.
And my instinct drove me somewhere into the wood line at once, somewhere to hide. But it was a mistake. A mine starts exploding as it flies, it seems like a giant goes through the wood line. We ran through that wood line and started retreating. Uh, chaos. I was running, short of breath. Bullet-proof vest on, lots of battle load-out, I was just stuffed. I thought: hell with all this, I cannot breathe. And there was Grad fire nearby – only shit! I was hit by earth, hot air, thrown away like a piece of paper. Ta da, I thought it was worth running a little further.
I saw what it's like when Grad missile explodes, what it does to people. I was hit by hot air, by burst wave. And we managed to come out – home and dry. How? I have no idea.
Mom says the whole Dnipropetrovsk region prayed for us then.
And I remember, oh. A problem. We were covered for 24 hours. In the school, they covered hard. There was no chance to going to the toilet. We were given the stick. And there was a toilet outside. It was stout. A monument should be set up for those who built it. I reached the toilet. Only sat down. And then one "Cornflower" flies into that toilet, then another one. I somehow managed to sit that out. And there another "body" rushes into that toilet. "In time," he said. Then we had to go back. I remember guys wished you luck when going to the toilet. And "Welcome back" when being back.
I remember as we went into one yard. Photos of a guy hang. I said: I saw him somewhere. We looked for him on briefing in Marik (Mariupol – tr.). We asked parents: "Where is your son?" "He was called up for military service" "What service?" Well, who would tell you where their son was…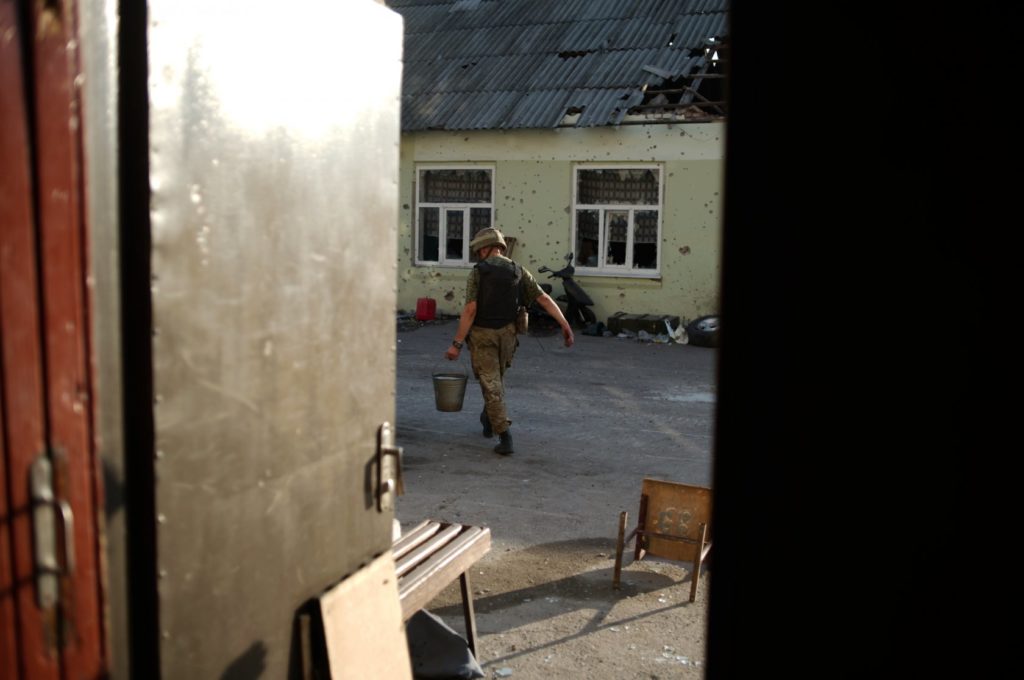 I was coming out like everyone else – in a column. There were Dnipro-1, the Armed Forces, volunteer battalions, guys from Myrotvorets. Filin said over the radio: "Let's go, guys. We are not falling for provocations." I remember some bridge. The column split – some went straight forward, others turned. And two APCs pop up in the field and start firing at us. We jumped out of the car to the roadside. But we realized this was not the way out, so we got back into the car and took off. Then they blocked us in the wood line (turned in the wrong place). We evacuated from the car, moved to the forest.
The car was blown up – they managed to hit it.
I crawled through the field, and there was a "shisharik" (GAZ-66 – ed.) pulling a mortar. I climbed into the shisharik, and in then pulled guys into it: I grabbed five or six on board.
We were rushing through the field, and then came across a kind of a steppingstone, a hump from the field to the village. An APC was going behind us with a bunch of people. And the APC (falls) from this steppingstone, guys from this APC (fall) under the wheels, and another APC behind it, they squeezed the guys' like tomatoes – squish, squish.
We drove into the village, a tank as well. A KAMAZ was there, it seemed that it also caught a mine, there were guys lying too – meat, bones, intestines lying nearby, and one of them was still alive, calling his mom.
And we were in the village, blocked on four sides… thank God, corn was not harvested yet, we went through the corn, into a swamp, there was a river. We stayed in that corn, in the swamp until the nightfall. I thought there were 15 of us sitting there. But when we started coming out – more than 70 people went out. We grabbed wounded, severely wounded on the go. I remember as we carried a badly wounded fellow – four guys were going ahead breaking sunflowers in the field, and then we were carrying the fellow. We came to Komsomolske, the National Guard met us there.
Then we went on a KAMAZ to Volnovakha. Then in Volnovakha our guys found a bus with a driver and it took us to Dnipro. We arrived in Dnipro at night. Probably, at three. It was dark yet. My current wife says: the bus opened the door, and you, came out like from the other world: black, smutty, and stinky. I discharged the weapon already near the administration.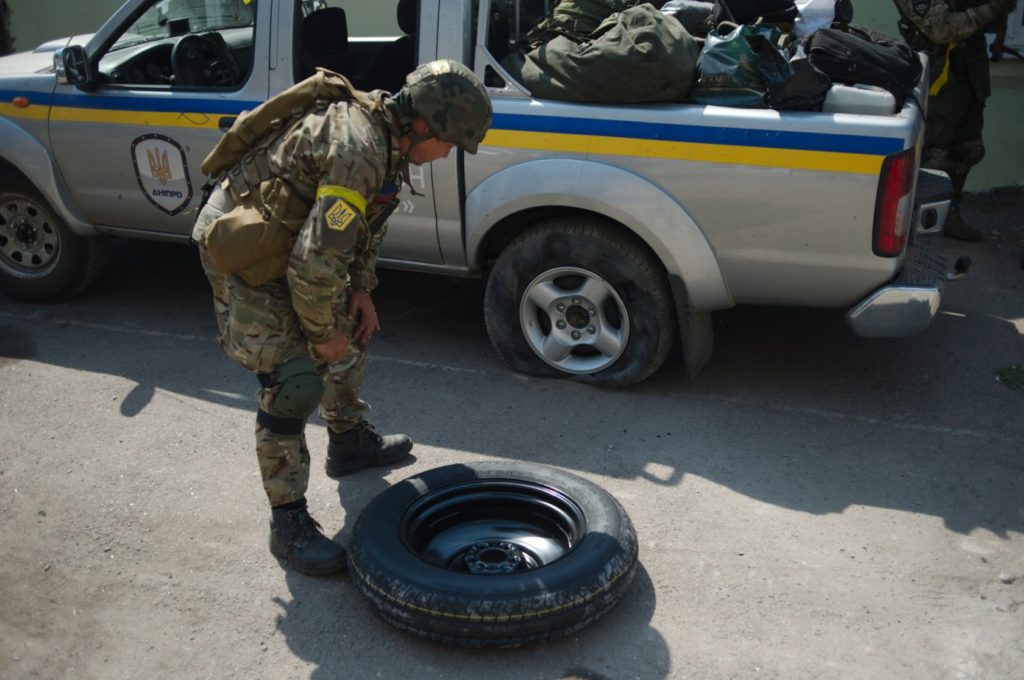 My son was 14 at that time. He was proud of me. I have been divorced for a long time and now I live with the woman who met me then from Ilovaisk. We got acquainted already during the ATO, on a web site. I told her I would be out of touch for a few days, before Ilovaisk, that everything would be OK. And she was meeting me after Ilovaisk. So we have been living together for three years already. She was a Russian citizen at the time of my disentangling from Ilovaisk, by the way. Oh, she was a potatriot at first. I told her, "You're a separatist."
She had Russian NTV, "Star "on her Facebook page. She got information from there. She says now: "if it wasn't for the fate for us to live together, for me to see with my own eyes, what was going on, who was at war, who the aggressor is, I would still believe Russian propaganda." Her son serves in the Armed Forces of Russia, by the way. We talked to him via Skype, he is an adequate guy, he understands everything. His father is in Ukraine. Separ, he once called, drunk: "Escape from Dnipro", said to the wife, "we will soon tear Dnipro to pieces, to spalls." In 2014. And now she's such an Uke! I sometimes think that God sent this woman for me. Her son wanted to send money to us at first. He said, "I thought you had no bread there, you had no food." I say, "Dima, are you kidding? We're fine. We made renovations here. She works at the hospital."
She is a bit older than me, came here with her husband during the Soviet times. The servicewoman, has served for 20 years in the Armed Forces of Russia. As the Soviet Union collapsed, they lived there, had an apartment in the Moscow region. Relationship with the husband failed, and she had parents here, mom was still alive. So she stayed here.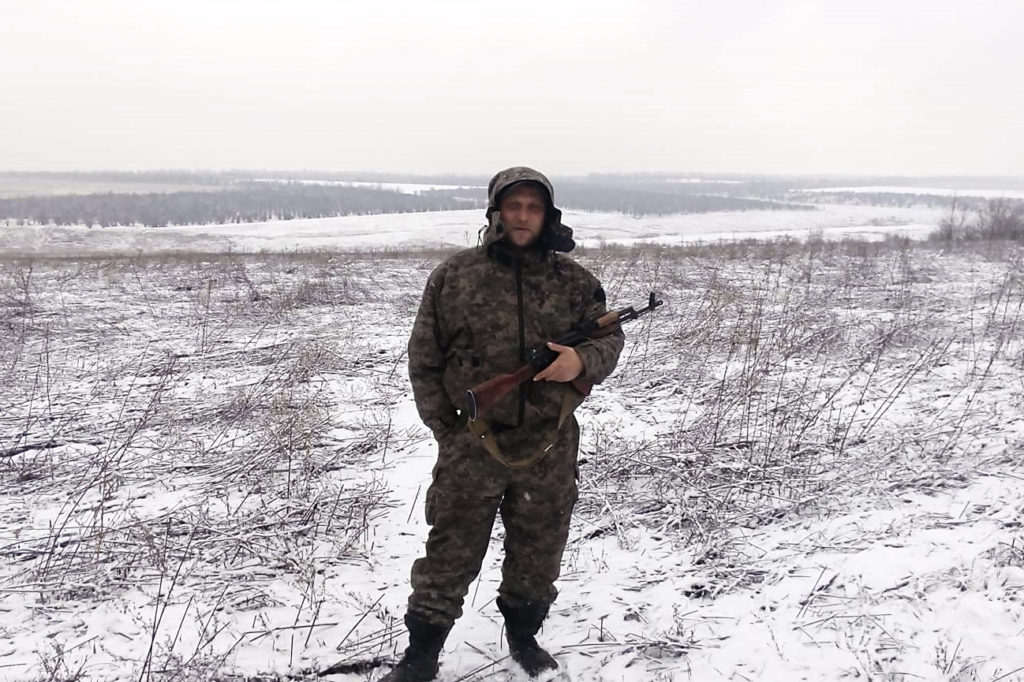 We went to her relatives in the village. A man is weird, understands nothing: "What are you doing there guys? Who are you fighting with there?" "With the Russians," I say. "Things are a mess here, in Kyiv, in the Verkhovna Rada, in the Cabinet of Ministers…" You can't tell a man in a nutshell, you will not convince him.
Yes, I agree on the mess but if we give up now, we will just be crushed, and that's it. We got into hot water: gone through lots of revolutions, the collapse of the Soviet Union. I am glad I have a son – a patriot. He studies at college, future things are a mess. Just try to tell him something against Ukraine…
And one more, I am most pleased I remained a human. You need to remain human in any situation, it is very important.